Expressing Criticism
Expressing Criticism – Responding meaning to conversation of getting things done and interpersonal accurately by considering various language features and social function in: criticizing.
Pay attention to the following picture, and read the text about Instagram.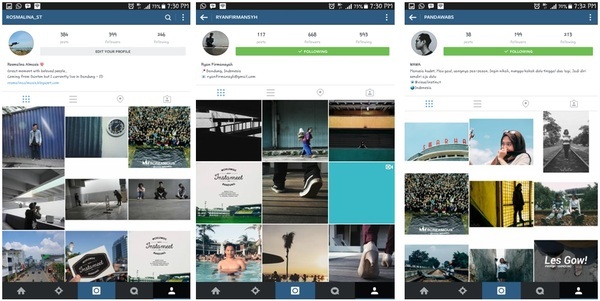 A New Way to Share Experiences
Do you love photography? Do you love to freeze moment through picture? Do you love sharing your experiences to many people? If you do, you will know the latest social media where you can share your experiences through pictures to everyone. This social media is called Instagram. Many teenagers nowadays know Instagram. You can access Instagram by using your mobile phone. You just need to download the application. By using Instagram, people can take a picture then post it so everyone in the world can see your picture.
There are several benefits of Instagram. First, Instagram is a useful media for e-commerce. All online sellers can sell their products by posting the pictures of their products on Instagram. Another benefit of Instagram is people can use it as a media to practice their skill in photography. People who have a lot of followers in their Instagram generally have brilliant skills in photography. The most important thing, the use of Instagram is free. Therefore, you do not have to pay some money to take benefits of Instagram.

Language Focus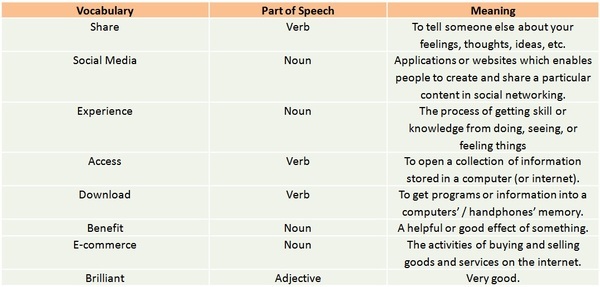 Pay attention to the following dialogue between these two students.
Student 1: Hey, what are you doing? You keep staring at your mobile phone.
Student 2: I am posting some pictures on my Instagram.
Student 1: What? Instagram? What is that?
Student 2: It is a free social media. Its function is almost the same as other social media, but in Instagram you can only post picture. Here, look at my pictures.
Student 1: Well. Do you get any benefit from uploading pictures on Instagram?
Student 2: Yes of course. First, I can share my experience through pictures to all my friends on Instagram, Besides, I do my business by using Instagram. I sell various women's dresses. By selling my dresses on Instagram, I do not need to pay for renting place to sell my dresses. That is awesome, isn't it?
Student 1: Yes it is. But you have to be careful in using the social media. Social media might be disastrous if the users are not careful.
Student 2 : Yes I agree with you. Many kinds of social media can be beneficial for the users, but it can also be disastrous for the users. Posting something on social media means we let everyone knows what we have posted. Therefore, we should be more careful and wise to use all kind of social media. On instagram for example, fortunately this social media provides "private feature" where only limited people who can see your pictures.
Student 1 : That's great. By the way, thank you for the information.
Student 2 : Anytime.
After reading the dialogue, pay attention to the following expression taken from the dialogue:
Social media might be dangerous if the users are not careful.
Any kind of social media can be beneficial for the users, it can be also disastrous for the users.
We should be more careful and wise to use all kind of social media.
Modals "might, should/should't, can and could" are used to express disapproval or criticism.
The following are the example of expression of criticism:
I have to say that the new songs from your band are disappointing.
With all due respect, Ms. Ann, I do not think your idea is applicable.
The new English teacher seems, shall we say, a little bit sensitive. She is easily to get angry.
They should not be here for doing nothing.
You may also expressing criticism by not using the aforementioned expressions. The most important, when you criticize means you give any evaluation toward someone/something. Here are some examples:
The film was totally boring.
Your words were really rude.
She behaves rudely to you teacher.
Ann and Dan were really annoying last night.