Writing Movie Reviews
Writing Movie Reviews – Expressing meaning and rhetorical stages of essay writing using a variety of accurate, current and acceptable in the context of everyday life in the form of text: movie review
In this lesson, you will learn about how to write a movie review based on its social function, generic structures, and language features.
A Movie Review
Do you like watching movies? How often do you watch movies in a week? Some of you may be confused to decide what movie you are going to watch. You may ask your friends' recommendation to get some ideas on which movies are worth watching. But, there is another way to find out what movie selection is reccommended to watch especially if your friends have no idea about it, you can read some movie reviews in internet to make sure whether the movie is great or not. It really may help you to get great movie. Therefore, in writing a movie review you should know its definition, social function, generic structures, and language features.
Definition of Review
A review is a kind of texts that aims to criticize the work of arts in the various forms such as books, movies, performances, music, songs, etc. However, in this lesson you will only focus on a movie review. The review commonly determines the quality of the movie, its strengths and weaknesses. After watching movie, you may discuss it with your friends or even give a comment.
Social Function of Review
The social function of a movie review is to analyze, evaluate, and criticize some movies. It also informs the readers about its strengths and weaknesses. Reading movie reviews helps you to decide what movie you are going to watch.
The Generic Structure of Review Text
Every genre of text has a generic structure. In writing a review text, you should pay attention to its generic structures as follow:
Introduction
This part contains an overview of the movie in general and particular context. It may consist of movie title, its author or director, and so forth.
Interpretative Recount
This part contains a short description of the movie that was reviewed. It tells the plot of the story in summarizing the plot, but you don't need to tell the entire plot until the end.
Evaluation
When you want to give your point of view, you can write in this part. It provides an opinion, a judgment, an evaluation, or recommendation of the movie. You can also describe how far you assess the movie and its content.
Summary
This is the last part which provides the whole evaluation towards the movie. It sums up the reviewers' opinion of the movie. You can give the reader the conclusion of the movie that has been reviewed. You can also persuade the readers to watch the movie or not.
Language Features of Review Text
In writing a movie review, there are several language features which should be noticed as follow:
Using persuasive language.
Using the present tense.
Using the adjective such as great, bad, good, amazing, touching, etc..
Using complex sentences.
Here is an example of movie review.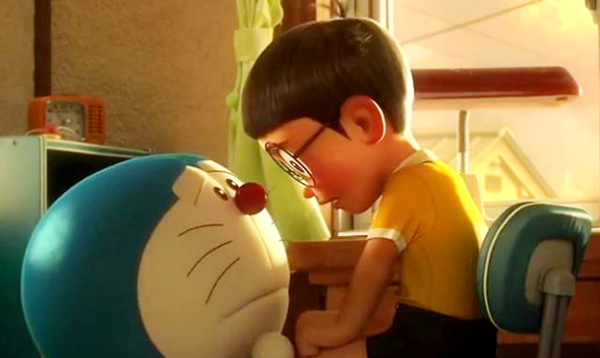 "Stand by Me, Doraemon" was directed by Takashi Yamazaki. This movie tells about a strong friendship between Nobita and Doraemon. This legendary Japan cartoon movie was made to celebrate 80 years of Fujiko F. Fujio, the creator of Doraemon image. A lot of fans looked forward to this 3D animated movie. They stand in the queue for a couple of hours in Cinema. Some of them thought that it was the final movie of Doraemon after watching its trailer, so did I. The author made people think that Doraemon will really disappear. Can you imagine how great this movie is?
The main story is adopted from some series of its manga. The movie was started by telling Nobita gets visitors that come out from the desk; Sewashi and Doraemon. They come from 22nd century. Actually, Sewashi is the fourth-generation descendant of Nobita. He felt that his family suffered because of Nobita's debt that is left to his generation. He wants to change his life by sending Doraemon as a guard robot cat so that he can get a better life in the future. But, Doraemon disagrees with his decision. Finally, Sewashi installs a program so that Doraemon can get back to the 22 century after Nobita has a happy life. A colorful life begins by secret gadgets that come out from Doraemon's pouch. Doraemon does some efforts to help Nobita become a better person with the secret gadgets. But, the secret gadgets always become a problem for their life. Then, their adventures begin until there is a scene where Doraemon should go back to 22nd century.
Even though it is like a remake from previous series, but it is really a great movie. Most of the spectators cried while watching the scene of Doraemon leaving. The director succeeds showing how hard they keep their friendship. It is touching, indeed. The director also serves amazingly great scene in 3D to differ with the series. It is like refreshing during 25 years of this movie.
I think this movie won't disappoint you. It is absolutely touching, witty, deep, and refreshing. When people can't predict how the ending of a movie, it must be a really great movie. There is no exception whether you are a big fan of Doraemon or not, you will regret if you miss this movie.
To sum up the lesson, review text:
purposes to assess or criticize the work of arts in the various forms
has four generic structures; introduction, interpretative recount, evaluation, and summary
contains summary of the story and the reviewer's opinion of the art as a whole
uses present tense and persuasive language